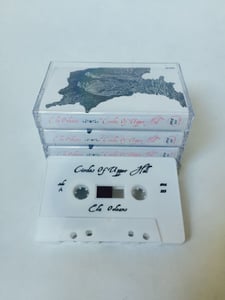 £

6.00 - On Sale
Limited 250 white tapes with black body printing
Cover designed by Ela Orleansand risograph printed by Jan Matthé at Het Bos in Antwerp.
This is original demo tape of "Circles Of Upper and Lower Hell". It was released on Stockholm based Oma333 by dear friend Gavin Maycroft, who has over the years introduced my music to the Swedish audience. Gavin decided to run this limited run of my demo tape and was the first person to recognise the value of the record in its full form and encouraged the idea of the version I mixed and produced myself. It's beautifully printed in Antwerp and dubbed in Manchester. These are my artist copies.
Here is what Gavin wrote for the press release:
Ela Orleans was one of the few musicians who I chased after in my times as a promoter. Most bands/acts tended to come my way through some angle or another but Ela was someone who's email I dug up and I harassed until she said yes. She shone on 3 different Stockholm stages over the years and I'm happy to have played a small role in helping to create a Swedish family for her.

Needless to say her music has always held a special place for me. The talent she has in focusing in on a two second sample and turning into something totally different, and equally stunning within its new context, never fails to surprise me.
And now I find my lucky self with Circles of Upper Hell in my very own hands and I must somehow put this into some kind of words for you all to understand.
It begins with the film score of an astronaut on second earth breathing for the first time, to my ears, before the twin high and low interplay of The Pastels's voices breezing in to dance together. We only hear Ela's distinctive voice half way through and it almost feels like she was holding court up until that point, and throwing down all this beauty from a cloud somewhere, before revealing herself.
Sensation is a serious highlight for me, Ghost and Whispers a solid gold hit, the Thorn Tree interlude that follows it is painfully perfect (in a dark Disney kind of way) oh and Dionysus honestly knocked me sideways with its genius.
.
Over repeated listens hidden gems keep revealing themselves from the shadows, a wonky piano line echoes in, hushed tones overlap, a deep wooden bass line throbs underneath, bells ring out from off centre, a driving beat pulses through, subtle sounds of the sea or warm digital fuzzes, low down in the mix. I found myself catching more of the lyrics as I go or letting certain moments of perfect tension wrap me up and then allow me to float on. So many beautiful layers yet it never sounds complicated or crowded.
Forcing myself to consider musical reference points, influences such as Broadcast, Coil and Charles Ives, Egisto Macchi and his "I Futuribili" can be heard at points. I wish I had more for you but Ela is her own world and so many of her eclectic influences feed into the timeless and peerless "movies for ears" she continues to make so effortlessly.
As things draw to a close its almost hard to deal with where she's taken us over these 72 or so minutes. I can't help but picture her floating back up skywards, dropping ethereal words as she goes, with a knowing grin and a happy satisfied sigh.
She must be as proud as I am. Inspired and titled after Dante's 'Inferno', this album is a masterpiece, more accomplished then anything I've heard from her before and I can't believe I have the honour of releasing it!
250 white tapes with black body printing will be available from Feb 27th.
Cover beautifully designed by Ela herself and risograph printed by Jan Matthé at Het Bos in Antwerp.
Listen in here; https://soundcloud.com/oma333/ghosts-and-whispers-by-ela-orleans-from-circles-of-upper-hell-on-oma33...